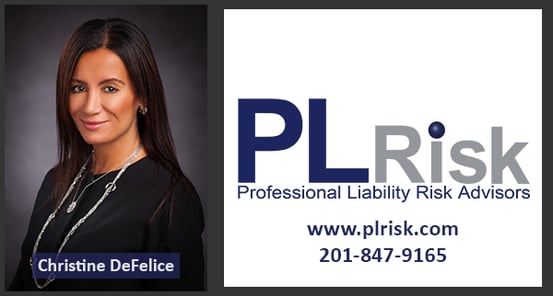 Please join us at PL Risk Advisors, Inc. in congratulating Christine DeFelice as she approaches her 2-year anniversary with us. Christine is a Professional Liability Broker with over 20 years of experience in the professional and management liability insurance industry and brought a wealth of experience to our company and our clients. Previous to PL Risk, Christine worked for Ironshore Insurance Services, Tudor Professional, and Royal Sun Alliance as a professional liability underwriter.
Christine had this to say about her two years here, "These past two years have really opened my eyes as I transitioned from an underwriter to broker. I've made a lot of new connections during my time here at PL Risk and have truly built a bond with my clients. Being on the opposite side of the business has given me insight about everything that brokers experience throughout the lifecycle of their client relationships. I can say without a doubt that it has been a rewarding opportunity and I am looking forward to the years ahead." Javier Gonzalez, Partner & EVP of Sales said" Christine has brought a lot of energy and prior experiences to the team we have all been able to benefit from. The value added she brings to her clients along with her commitment to delivering quality solutions has been a great addition to our team. Her clients truly appreciate her efforts as well".
Christine currently focuses on all professional and management lines including E&O, D&O, EPL, A&E, Lawyers Professional and has had significant success in the Cyber space. She currently sits on the Eastern Chapter Committee of the PLUS organization and obtained her RPLU designation in 2002 and her ALSI designation in 2006. Book a meeting with Christine today https://hubs.ly/H0kWzn00
Congratulations Christine!
0 Comments