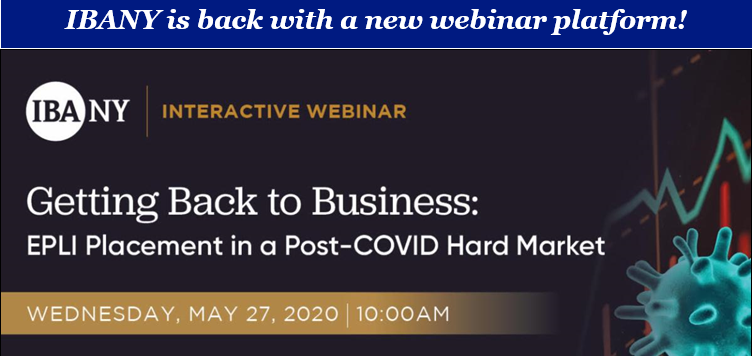 Javier Gonzalez, Partner/Executive VP of Sales at PL Risk Advisors will participate on IBANY's EPLI webinar. The EPLI market place is rapidly changing and has overnight become a very hard market to place business in. The webinar will discuss what insurance agents and brokers need to be aware of regarding coverage restrictions, changing appetite of underwriters and additional COVID specific questions to be in the best position to deliver the best results for their clients.
Mike Smith, CEO of PL Risk Advisors is excited for Javier. "With the COVID Pandemic seemingly starting to wind down, this webinar is a great way to show what needs to be done in order for the insurers to stay competitive in the field as they begin to recover from the sudden crash that came from the pandemic."
Click here to register and learn more.
About IBANY
Overseen by a volunteer board of highly influential brokers, IBANY provides a platform for education, professional development and networking, serving all generations of the insurance industry, including top level executives, experienced professionals and emerging leaders.
About PL RISK
Founded in 2014, PL Risk Advisors, Inc. is the wholesale division of Axis Management Group Holdings, Inc., providing professional liability coverage solutions for insurance agents nationwide. Our high-quality coverage options include errors and omissions, directors and officers, fiduciary, crime and privacy/network security programs.
0 Comments