With neighbor state New Jersey beginning to set up their own cannabis markets, New York legislators have established a framework to pass the Marijuana Regulation and Taxation Act (MRTA), which will make the 17th state to legalize commercial cannabis.
Legislators agreed to bring this before the State Assembly as they begin their budget talks next week. The deal outlines several key factors. Citizens over the age of 21 are allowed up to three ounces on hand and sales will have a 13% tax, nine percent going to the state, and four percent going to the local governments. The bill will allow local towns and counties to forbid sales in their jurisdictions, much like alcohol. There will also be an excise tax based on the amount of MHC in the product. [1]
The amount of revenue projected is about $4.8 Billion for the first year of the program, with more than $5 billion to come in over the next 6 years.[2] Tax revenue from legal marijuanna sales would first go toward the operations of the Office of Cannabis Management and police officer training to detect impaired driving. Forty percent of the remaining revenue would go toward school aid, another 40 percent would be put into a fund establishing grants for social equity, and another 20 percent would go toward drug-treatment and public-education programs.
While New York continues to debate this, many states are moving forward with their programs and other legislation. Each state carries different laws and thus carriers must contend with each state individually.
For our insight into Cannabis: (Link)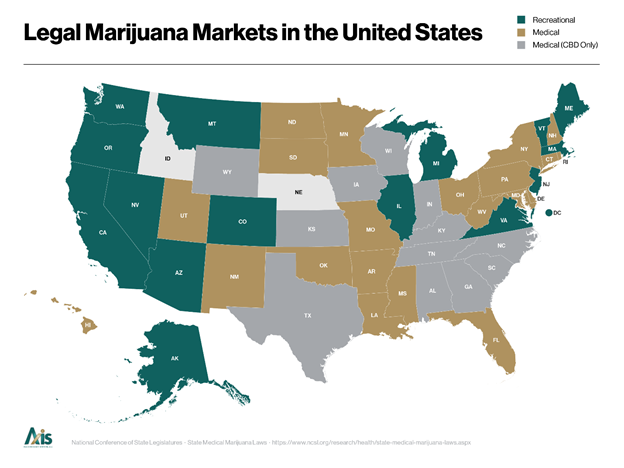 [1] https://nymag.com/intelligencer/2021/03/new-york-lawmakers-reach-a-deal-for-legal-weed.html
[2] https://www.newsweek.com/new-york-lawmakers-open-door-billions-revenue-recreational-marijuana-deal-1578770